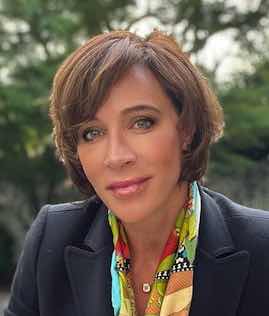 Paula Kranz
Novant Health
Executive Director
Novant Health Innovation Lab
Novant Health
Paula Kranz is Executive Director of the Novant Health Innovation Lab. She previously served as an "executive in residence" at Novant as CEO and founder of Medi-XR, a healthcare consulting firm specializing in innovation and digital transformation, including metaverse immersive technologies (AR/VR/XR), IoT, AI, Virtual Care Expansion, and Digital Health Solutions.
Paula is a 22-year former U.S. intelligence officer with leadership experience in over 70 countries around including the Middle East, Africa, Southeast Asia, and Europe. She has worked in electronic warfare, all-source intelligence data analytics, NATO intelligence units, interagency FBI Joint Terrorism Task Forces and U.S. Special Operations Command.
While pursuing graduate studies, Paula became a New York Times best-selling author and served as a research associate at Harvard University's Center for Public Leadership. She also served as Deputy Director of The Fletcher School's Counter-Terrorism Center. She was a national finalist in the White House Fellowship program, a member of the U.S. Academy of Achievement, and term member of the Council on Foreign Relations. She was selected by the French America Foundation and American Council on Germany as a Young Leader / Ambassador.
Paula is deeply committed to public service and volunteerism. She is a member of the Charlotte City Council's Bicycle Advisory Committee. She served for two years as an Executive Vice President for Women Executives, as Co-Chair of the Carolinas 2020 Women on Boards initiative, and Co-Chair of the Charlotte American Heart Association's GO RED campaign and co-chair of the Charlotte American Heart Association's STEM program for girls. She served on the boards of the Institute for Defense and Business, Women in International Security, Carolina Freedom Foundation, Association of the U.S. Army (European), and two NC anti-human trafficking nonprofit orgs.
Paula received a Master's Diploma in Global Business from Oxford University (Healthtech Innovation). She holds an MPA (Behavior Economics) from Harvard University and MA (International Security and Conflict Resolution) from the University of Denver. She earned a BS degree (Systems Engineering) from the U.S. Military Academy at West Point.
Additionally, she was a National Security Education Program Boren Fellow, studying Arabic in Jordan and Israel. She completed Army Command and General Staff College. She is certified as an International Ombudsman.
Paula is a USA Triathlon National Championship qualifier and enjoys skiing, traveling, and adrenaline adventures.