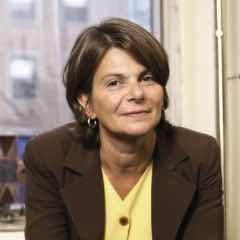 Dr. Jo Ann Difede
Weill Cornell Medical College
Professor, Director of Virtual Reality Lab and Program for Anxiety and Traumatic Stress
Weill Cornell Medical College
Dr. JoAnn Difede is currently serving as Principal Investigator of a Department of Defense clinical trial contract entitled, "Enhancing Exposure Therapy for PTSD: Virtual Reality and Imaginal Exposure with a Cognitive Enhancer," which is investigating how the use of virtual reality may help accelerate recovery from post-traumatic stress disorder among our nation's service members. She has served as Principal Investigator of several NIH-funded treatment studies concerning the development of innovative treatments for PTSD following various traumas including burns, terrorism, and natural disasters. Dr. Difede has been a consultant on several grants in which her role was to develop a manualized treatment protocol and to train and supervise the clinicians who deliver this treatment, including two Office of Naval Research grants: "Use of Virtual Reality War Fighter scenarios with Returning Gulf War and Afghanistan Combatants experiencing symptoms of Acute Stress Response and PTSD" and "The ViRTICo-BP Trial: Virtual Reality Therapy and Imaging in Combat Veterans with Blast Injury and Posttraumatic Stress Disorder" headed by Colonel Michael Roy, M.D. She currently serves as a consultant on an Army Research Office grant: "SimCoach: Promoting Healthcare Outreach and Advocacy with Virtual Humans" led by Albert "Skip" Rizzo, Ph.D., and for a USAMRMC grant: "Comparing Virtual Reality Exposure Therapy to Prolonged Exposure in the treatment of soldiers with PTSD" headed by Colonels Gregory Gahm, Ph.D., and Gregory Reger, Ph.D., which tests virtual reality enhanced exposure therapy for the treatment of PTSD in U.S. military personnel deployed to Iraq and Afghanistan.
Additionally, Dr. Difede and the Program for Anxiety and Traumatic Stress have been awarded a Welcome Back Veterans grant from the McCormick Foundation that allows the Program to offer a range of free mental health services to service members and military families. Dr. Difede previously established a program at Weill Cornell to screen and treat thousands of civilians and disaster workers following the WTC attacks; a program that continues to serve the community today.
Dr. Difede has served as a scientific peer reviewer for the NIH and the Department of Defense, among others. She is currently serving terms as a member of the editorial board for the Journal of Traumatic Stress and as a member of the Scientific Advisory Board for the American Anxiety Disorders Association.