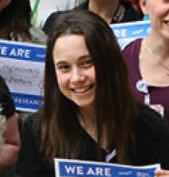 Cori Davis
Curebase
Associate Director, Clinical Project Management
Curebase
Cori Davis is Associate Director, Clinical Project Management at Curebase, an organization devoted to modernizing the conduct of clinical trials. She received her Bachelors in Psychology from Duquesne University. She started her career in clinical research at UPMC Children's Hospital of Pittsburgh working with some of the top cardiologists and cardiac surgeons in the country, carrying out investigator-imitated and industry-sponsored clinical trials. She went on to work at Krystal Biotech, a start-up gene therapy company, as a clinical trial associate. There, she engaged clinical trial sites, such as Stanford University, as well as the FDA, to conduct their flagship trial for a topical gene therapy product aimed at
helping those with Epidermolysis bullosa, a devastating chronic wound disorder affecting
children and adults alike.
As COVID-19 dramatically changed the clinical research landscape and expedited the adoption of decentralized clinical trials, Cori moved on to be on the forefront of bringing clinical trial assessments into the home and using real-world evidence to support proving the safety and efficacy of drugs and technologies. Today, Cori's focus is bringing diagnostic and digital therapeutic clinical trials to life in this modern way, having her hand in operationalizing over 15+ clinical trials in the last 2 years alone.
Outside of work, Cori is a strong advocate for school-aged STEM programs, volunteering and mentoring students participating in FIRST Robotics. As an alumni of the program, she
continues to find meaning and purpose in giving back to the organization that was instrumental in the development of the creative and professional skills she uses each and every day.