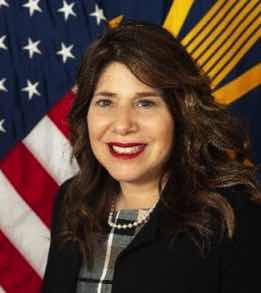 Dr. Susan Kirsh
U.S. Department of Veterans Affairs
Acting Deputy Under Secretary for Health for Discovery, Education and Affiliate Networks
U.S. Department of Veterans Affairs
Susan R. Kirsh, MD, MPH is currently serving as the Deputy Assistant Under Secretary for Health for Discovery, Education and Affiliate Networks (DEAN).
Dr. Kirsh served in numerous roles during her 24-year career with the Veterans Health Administration. She practiced as an internist for many years at the Cleveland VAMC and has led initiatives in VA Central Office in the Primary Care Program Office with Patient Centered Medical Home and Shared Medical Appointments and in Specialty Care nationally implementing eConsults, SCAN-ECHO, Specialty Care Neighborhoods, and MiniResidencies. Since March 2015, Dr. Kirsh led access to care efforts such as implementation of the practice management program for outpatient care across VA, same day services, and direct scheduling for specialty care. In 2018, Dr. Kirsh became the Acting Executive Director for Access and led enterprise-wide efforts to improve access to care through telehealth and Clinical Contact Centers Modernization.
Dr. Kirsh received her Doctor of Medicine degree from the Medical College of Ohio in Toledo, Ohio. She completed her residency in Internal Medicine at the University of Cincinnati in Cincinnati, Ohio and Northwestern Medical Center in Chicago, Illinois.
Dr. Kirsh is certified with the American Board of Internal Medicine and received a Master of Public Health from Case Western University in Cleveland, Ohio. She is a member of the American College of Healthcare Executives, Society of General Internal Medicine, Medical Group Management Association, and the American College of Physicians. Dr. Kirsh was a Faculty Scholar in the VA Quality Scholar Program in 2008 and holds a Professor of Medicine appointment at Case Western Reserve University in Cleveland, Ohio and an Assistant Professor position at the Georgetown University School of Nursing.