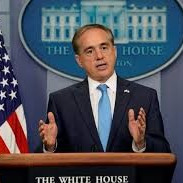 Dr. David Shulkin
Override
The Honorable David J. Shulkin, MD
The Honorable Dr. David J. Shulkin was the ninth Secretary of the US Department of Veterans Affairs in the Trump Administration and VA's Under Secretary of Health in the Obama Administration. As such, Secretary Shulkin was the only member of the Cabinet to have served both Presidents and to have been confirmed by the US Senate by a vote of 100-0.
Secretary Shulkin is a widely respected healthcare executive having served as chief executive of leading hospitals and health systems including Beth Israel in New York City, Morristown Medical Center in Northern NJ and currently he serves as Executive Vice President at Sanford Health one of the country's largest rural healthcare systems.
Secretary Shulkin is a board-certified internist. He received his medical degree from the Medical College of Pennsylvania, his internship at Yale University School of Medicine, and a residency and Fellowship in General Medicine at the University of Pittsburgh Presbyterian Medical Center. He received advanced training in outcomes research and economics as a Robert Wood Johnson Foundation Clinical Scholar at the University of Pennsylvania.
Over his career Secretary Shulkin has been named "One Hundred Most Influential People in American Healthcare" by Modern Healthcare. He continues to advocate on behalf of the country's veterans by serving on the board of numerous nonprofits that serve veterans, is the host of the popular Policy Vets Podcast, and is the author of the recent book, "It Shouldn't Be This Hard to Serve Your Country: Our Broken Government and the Plight of Veterans".
Follow @DavidShulkin