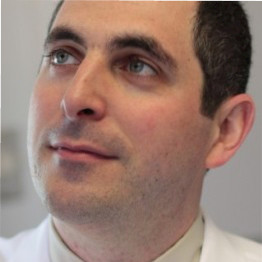 Dr. Jonathan Sherman
West Virgina University
Associate Professor of Neurosurgery / Director of Surgical Neuro-oncology - Eastern Campus
West Virginia University School of Medicine
Jonathan H. Sherman, MD, FAANS, FACS is a board-certified neurosurgeon specializing in Surgical Neuro-oncology. He obtained his medical degree from the Medical College of Georgia and completed his neurosurgery residency at the University of Virginia. Following completion of residency, he completed a fellowship in Surgical Neuro-oncology at Memorial Sloan-Kettering Cancer Center. Dr. Sherman joins the faculty at West Virginia University as Associate Professor of Neurosurgery as well as the Director of Neuro-surgical Oncology – Eastern Division. In this effort, he leads a multi-disciplinary team and robust translational research program as well as a clinical trials program. He has several clinical research interests in neuro-oncology and has published greater than 100 manuscripts in peer-reviewed journals. He also co-authored the textbook Cold Plasma Cancer Therapy as well as 15 book chapters. He is a pioneer in the use of new healthcare innovations such as virtual reality to improve the outcomes of his patients. In addition, Dr. Sherman serves as mentor and educator to both medical students and residents at West Virginia University. He was also recognized by his peers as a Washingtonian Top Doctor for the past 5 years.
Dr. Sherman has established himself as a national and international expert in the treatment of patients with brain and spinal tumors. He is a member of both the American Association of Neurological Surgeons (AANS) and the Congress of Neurological Surgeons (CNS) and has served on the AANS/CNS Joint Tumor Section Executive Committee for the past 6 ½ years. Dr. Sherman also serves on the International Scientific Committee for the International Workshop on Plasma for Cancer Treatment. He has served as a reviewer for numerous medical journals and currently serves as Academic Editor for the journal PLoS-One. He was recently appointed as Associate Editor for Operative Neurosurgery as well as Editor for the newly established Journal of the International Virtual Reality Healthcare Association. He serves as both a Fellow of the American Association of Neurological Surgeons as well as a Fellow of the American College of Surgeons.
Dr. Sherman is a true clinician-scientist working from the bench to the bedside as he performs translational research in an effort to provide a direct impact on advancing treatments for his patients.